Spare Change Challenge

We have a winner for the Spare Change Challenge. This time it is Ben and Pauline Nofs with team Baby Shark. They collected a total of $420.29, great job! Thanks to Ben, Pauline and Jim Racz for their fundraising efforts that will go to Spero Pregnancy Center. Also thanks to everyone who donated all year long. Photo to come.




We now start again with two new Captains and a new charity. Captains this time are Ken Nofs with team "Captain Morgan" and Shelly Piechotte with team "Save the Ta-tas". The charity they will be collecting for is: Taking a Shot at Breast Cancer. Good luck Captians!




Painting for Auction

We have a winner for the Parrot painting. At $70.00 the winner wants to be anonymous. That person wants to donate the painting back for another raffle, maybe in a basket. Thank you to Kelly for the painting and to all who bid! You will see it again!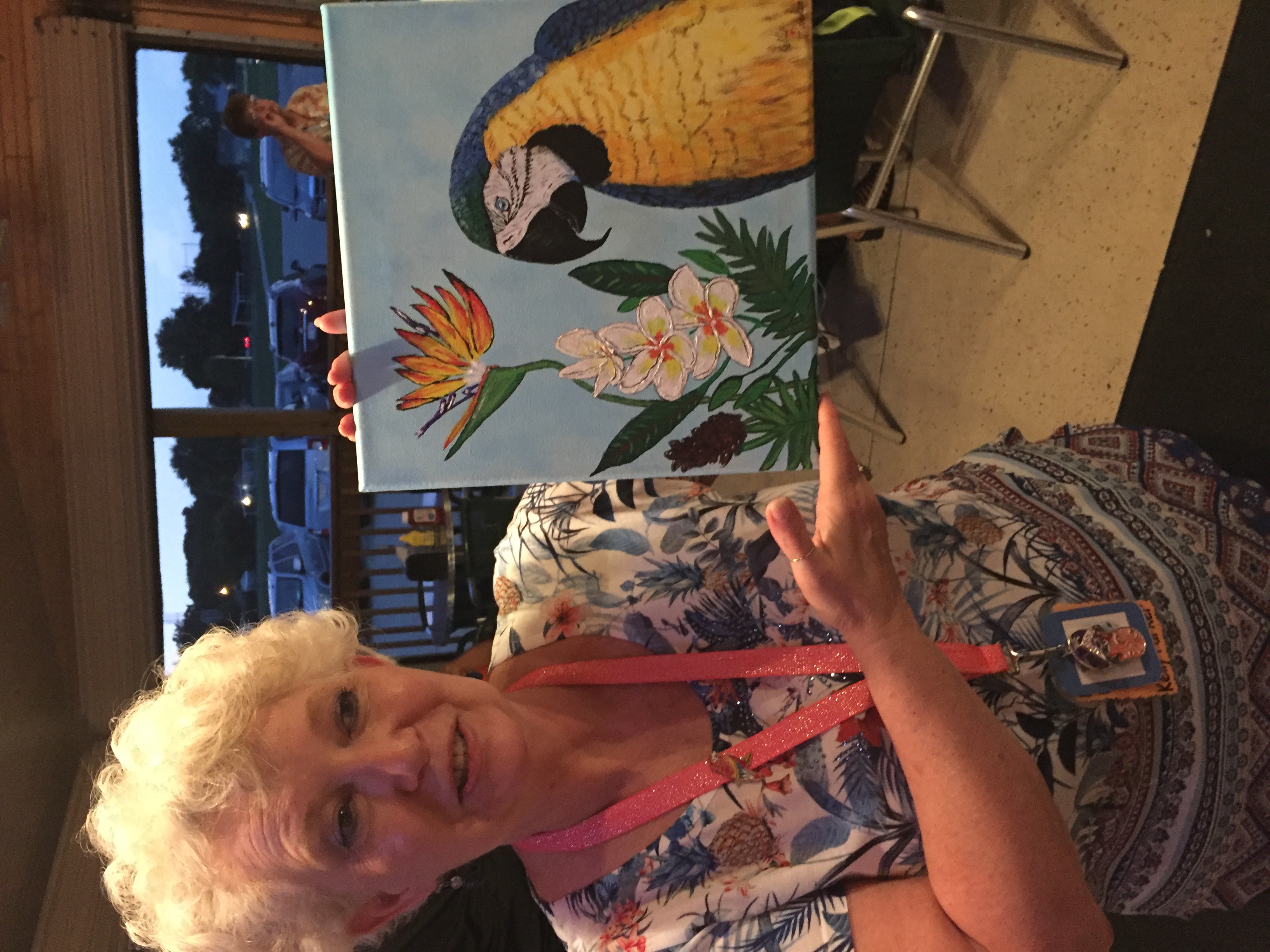 Parrot Head Club Christmas Party

This year we were able to have a party. We got the back room at Connor Street Pub. About 35 Parrot Heads attended. Bob and Deb worked the door. Tables were set up with Christmas decorations, like snow flakes that we used to have a snow ball fight inside. Watch out Gary "You will shoot your eye out"!




We had a wonderful waitress named Maria. She kept all the drinks coming! Added bonus, it was her birthday so we sang Happy Birthday to her! Great job Maria! We had a gift exchange if you wanted to be involved. Candi got the perfect wine glass for her tastes and Karen got a surf board for her bar. We also had the best band ever...10 Beach Drive.




We had dancing and drinking and lots of fun. Deb was getting into a song holding up her phone with the light on as a lighter.




It was a very fun night. We had to be out by midnight so after cleaning up some of us went to the Moose for more drinks.




Thank you Bob Howard for chairing this for us. We all know how hard it was since the place changed hands. Thank you to 10 Beach Drive for playing for us. You guys are the best! Thank you to all who came, brought a gift and shared in the fun. Merry Christmas!

Shopping for our Foster Kids

This year we got a family with four kids. We were given the first name with age and sizes. Also some things they wanted and some they needed. The club donated some money. Several Parrot Heads met at the Birchwood Mall to do the shopping. The club money was passed out and then we added our own money to it, got a copy of the list and off we went to shop. Here is the result when we got back!




Once it was all loaded into Jim's car we went to eat at Cheap Charlie's. We also watched the Lion's win the first game of the season. It was a good day over all. The saying for the last picture is: "Gary's here." If you remember that line? Look over Steve's head.




Thank you Jim Howard for getting the kids for us and for chairing this each year. Thank you to everyone who donated money or items for the cause. Thank you to everyone who showed up to do the shopping. Thank you to the club for the extra donation. We all hope those kids have a great Christmas!

Float Build

On Nov. 20 we gathered at the Howard's house to put together our Christmas parade float. The very fragile skirting was repaired from last parade and decided it would be put on when we got in place. Then we went out to put up lights and Elves.




Once we got all we could do there we went in the house for some food and fun. Jim and Donna provided the hot dogs, we all brought a dish to pass and our drinks. Later shots came out and we played games into the late night. Everyone was feeling good and that's when the crazy starts. We have never been one to waste alcohol so when you pour and that little drip goes down the bottle we can't waste it. Pauline and Candi were there to take care of it.




Thank you Jim and Donna for chairing this each year and for hosting the build at your house.

Christmas Parade

The Christmas Parade, as always is on Black Friday. This year it was very cold and windy but that didn't stop some faithful Parrot Heads from marching. We dressed in our best and warmest Christmas parrot-fernaila and came out. We finished the float at the spot, started the music and had some Jell-O shots. Steve and Candi carried the banner.




Here is a pic of everyone before we started.




After we finished we all went to Palm's Krystal Bar for dinner and a nice warm drink. They always accommodate us after parades, they are the best!! We had 16 people and they got us in. We really needed to warm up. Look at those nice warm drinks that Ken and Pauline got. You can almost feel the warmth.




Thank you Jim and Donna for chairing the parade. Thank you to everyone who came out to decorate, to march and to pass out the candy. We could never do the things we do if not for the participation of the members. Merry Christmas everyone!!

Halloween Pheeding Phrenzy

This year we gathered at Tally Ho for our Halloween Pheeding Phrenzy. Some of us dressed in costumes.




About 23 Parrot Heads came to enjoy a nice meal and fun company. Here are some table shots. Also some of Steve's table selfies.




Even though it was pouring rain and the parking lot was flooded we all had a fun time. Happy Halloween everyone!!

Check to Spero

Pauline is presenting the $400.00 check to Spero Pregnency Center at the Nov. meeting.




On Dec. 20, Pauline delivered all the items that were donated to the Spero Center. Here are some pictures.




Bowling Fundraiser

Thanks to the pandemic we had to postpone our bowling fundraiser several times but we finially did it on Oct. 2,2021! First let me start with the making of the baskets for the raffle. Items were gathered and brought to Howard's house the Saturday before. Pauline and Candi got baskets and wrapping to start the assembly. The men helped with the lottery tree and pouring the wine. After they were all done we relaxed by playing cards and drinking! Fun time!




Now to the bowling. Raising funds for Spero Pregnaancy Center, we all gathered at Port Huron Lanes. We had the baskets set out and also a 50/50 going. Thanks to the wonderful members who sat out to sell tickets and take in the money.




While they were selling, the rest of us started to bowl.




Jim wanted to make sure that Sue did a better job on her next ball so he decided to beat it into her! Do you want to know what happens when you send the ball down the middle of the lane when trying to get a 7-10 split? It is a FIELD GOAL!




We bowled 2 games each. It was lots of fun and we were very loud! Tim and Sue's grandson, Timmy was there too. Some of us were jealous that he got to use the bumpers and we didn't! I think he got a better score than I did. Pauline and I made sure we had our "Skill Juice" to help us bowl (a.k.a BEER). It didn't help! After bowling it was time to draw the tickets. Timmy got to do all the drawing. First was the 50/50 and the winner was Erik Parker! Wait didn't he sell the tickets? Hmmmm that seems a little fishy! Congrats Erik! Then the baskets! You can see who won what. The ladies tending bar really made out well!




It was a great time for all. Thank you Pauline Nofs for chairing this for us. Thanks for everyone who donated, made baskets, came out to bowl and bought tickets. Pauline will announce the total amount donated to Spero Center at the next meeting. We raised $350.00 but the club raised the amount to $400.00 to donate to Spero Center! Great job everyone!




Home