Spare Change Challenge

We have a winner for the Spare Change Challenge. This time it is Tom Lozowski with Team "Don't Be A Scrooge". They collected a total of $315.45, great job! Thanks to Tom and Jim Racz for their fundraising efforts that will go to the Departmen of Health and Human Services. Also thanks to everyone who donated all year long.




We now start again with two new Captains and the same charity. Captains this time are Donna Howard with Team "Tropical Christmas Cause" and Jim Racz with Team "Santa's Little Helpers" again. Looks like Jim wants a rematch. Good luck Jim! The charity they will be collecting for is: the Department of Health and Human Services. Good luck Captains!




Shopping for Foster Kids

Every year we get the names, wants and needs of Foster kids. This year we got 4 kids, a set of twins (boy and girl) age 5 and two younger brothers age 2 and 10 months. The club donated some money to the cause and other members also. We gathered at Birchwood Mall, devided into 4 groups (one for each kid), pooled all the money and split it four ways ($100.00 per kid) and off we went to shop. We gathered back at the Merry-go-round about an hour and a half later. I have to say we did an outstanding job this year!




After taking the picture, we loaded it all in cars and went to Howard's house for the wrapping. First we had some snacks to eat. Then got to wrapping. We seperated all the gifts on the pool table, each kid got a corner (pocket). Then started wrapping.




Jim and Donna Howard will be delivering the four boxes of gifts on Monday so they can be given to the family for Christmas. This family will have a very nice Christmas this year! Thank you to Jim and Donna for chairing this for us each year. Thanks to all who donated money or gift cards. And most importantly thanks for all who came out to shop and wrap! Merry Chirstmas to all!

Club Christmas Party

The Club Christmas Party was on Dec. 2 this year. We got the pole barn on State Road again and the same caterer that we had for our anniversary party. And of coures we got the same band, 10 Beach Drive! We cleaned it up and decorated it for Christmas. The newly appointed treasurer, Tom Lozowski collected the money at the door.




The party started off in true Parrot Head style! First Bob Howard made a few announcements and did a Team Drink. Look, Pauline is already drinking "Three Fisted" and Jim had to use tools to open a bottle of Crown Royal so he was sipping all the way back to the table. Then we started to eat!




The band began and we danced!




We can't forget to show off the Christmas Sweater people! Great Job!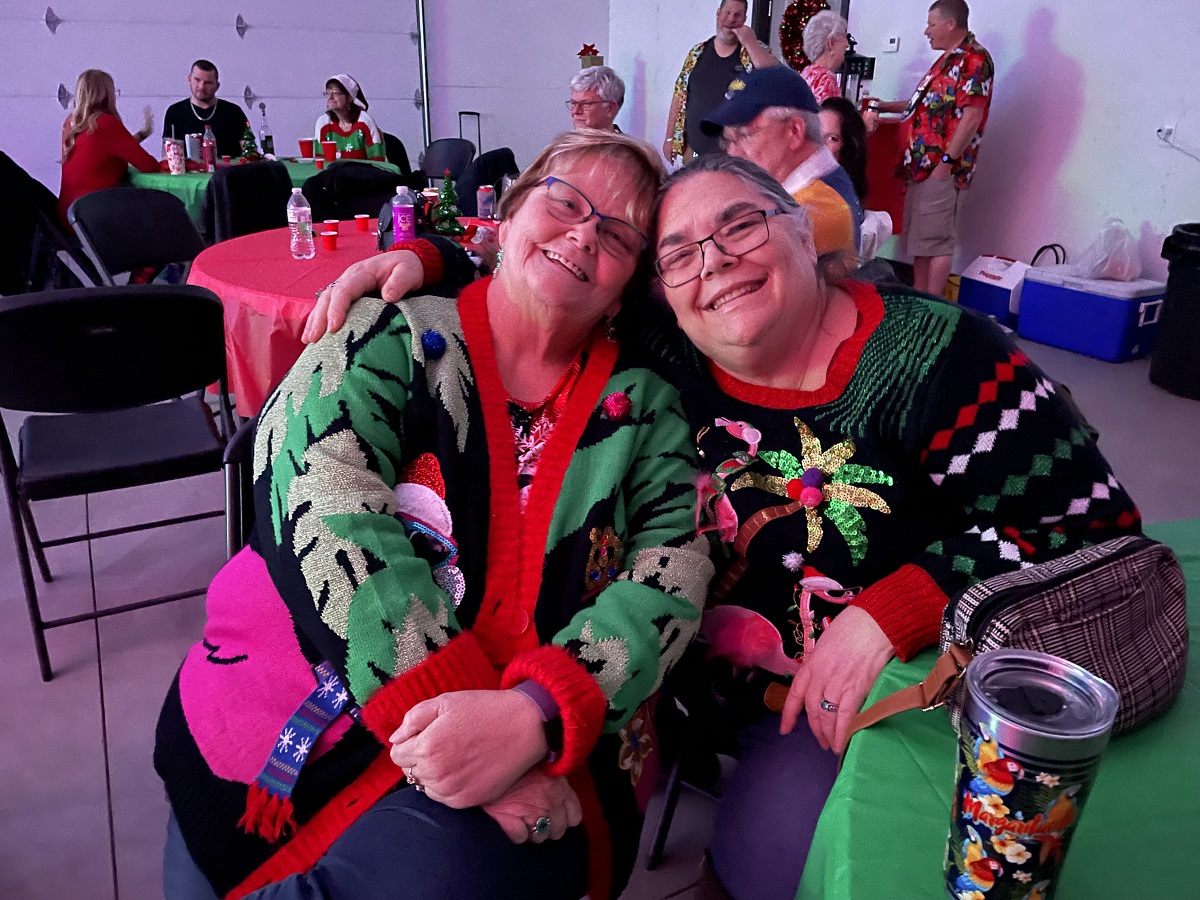 As we were dancing Denny wanted to cut in on Steve and I. Little did I know he didn't want to dance with me but with Steve??? There was also lots of drinking. Want to know what happens when you drink green wine? I will show you!




Soon the band had to stop and we had to clean up. It was a great party with great friends! We all helped to put the pole barn back to a barn. What is this that Autumn found outside? It's a praying mantis! Oh wait it is a dead praying mantis! But she is taking it home to show her kid. OK, I wouldn't touch it but that's just me.



Thank you Bob Howard for chairing the party. We all had a great time. Merry Christmas everyone!

Christmas Parade

On Black Friday we gather in Port Huron for the Christmas Parade. Our float decorated to the max, was looking fabulous! The gang was there with snacks and Jell-O shots. The banner was hung on the front of the Jeep.




We were all dressed in pirate or Christmas. Look Tom and Candi have a matching pair of gloves.




It was cold but we have seen worse. The parade started and we were off. I thought that truck would look great in our line up! There were lots of people watching. We were also escorted by our new friends "Jeepers Anonymous of Michigan". They led the way for us in the parade.




After the parade,several of us went to Cheap Charlie's to eat.




Thank you to Jim and Donna Howard for chairing this for us each year. Thanks to Tim and Sue Horan for helping to pull the float with their big truck. Thanks to everyone who came out to march and brought snacks or drinks. Merry Christmas! Don't forget the Christmas party next week!

Float Build

Our Christmas parade is coming up fast, so it's time to build the float. We gathered at the pole barn with tools in hand. It's never all work with Parrot Heads, see Janie rolling around on a rolling stool! Everyone has a job to do, even if it's holding down the front of the float so it doesn't tip over when we get on in the back.




We put up the lights and the elves. Fixed a few things and changed out some other lights. Put on old grass skirting because the blue is just too delicate to drive with it on and just too cold out to put up when we get there. It looks pretty good if we do say so ourselves. Jim had a few things to add later and we forgot the sails, so those go on later.




Then it was off to Howard's house for food and drinks. What a spread we had. Donna made brats and we all brought a dish to pass. Nice veggie trays!




We all sat around talking and drinking. Then it was time to get out the quarters and play LeftRightCenter!




After a while it was time for a break. Which also means time to make Key Lime Shooters. Then the bartenders did such a good job they made themselves a Mini Beer!




A job well done. Thanks Jim and Donna Howard for chairing this for us every year. Thanks to all who came out a helped put the float together. See you all at the parade!

Halloween Party

On Oct. 28th our favorite band, 10 Beach Drive was playing at Lacroix's Riverside Pub. We turned it onto our Halloween party. The band dressed up and so did we. Some came early for dinner others just came for the band. Either way it was a fun night of dancing! Here are some pics to prove it!




We all had fun! Thanks 10 Beach Drive for inviting us to the party!

BWPHC 20th Anniversary Party

On Sept. 9, 2023 our club turned 20 years old! We had our party on Sept. 23rd. We got together at the pole barn on State Road to decorate. Very important "people" were there; Ilene O'vere, Pyro Pete and Phulcking Phlocker Award! Also the club gave all members a gift, BWPHC coffee cup and kuzzie.




We set up a popcorn maker and Margarita blender. Bill Quinlan was our caterer, he set up a wonderful spread. Including our gumbo recipe and wonderful desserts. Don't worry, Steve still brought his Famous Dessert too.




Here are some of the Parrot Heads that came.




Bill and Steve Padgett got the best t-shirts! I want one!




After a few words from our club President and the last of the Founding members, we did a Team Drink! Then ate! While we were eating and socializing our AV Crew (Jim Howard and Ken Nofs) had music playing and a slide show of past events. Talk about a Blast from the Past. Denise also brought an old photo album. That was fun to look at. The Canadians smuggled in some tabs for us. And we announced the next Phlucking Phlocker Award winner. Drum roll please....for all his help with the Christmas party and the Meat Raffle the winner is Bob Howard! He will get to keep the award for a year, adding something to it and will bring it back next anniversary party to give to someone else.




We also played games, corn hole was set up inside and large Jenga was set up outside. Ken and Pauline did a Buffett Trivia game with Junior Mints as a prize if you got a question right.




Now it was time for the Boat Drink Contest. First up is Tom Lozowski. The first contest we ever had he had a stuffed parrot that pooped out a pudding shot. For the 20th anniversary he felt it only right to bring him back as "Parrot Poop 2.0". Still using the Cookies and Cream pudding but adding different liquors.




Next up was Pauline and Ken Nofs with Blue Hawaii 5-0. A tropical drink with 5 different liquors. As Pauline mixed Ken danced to the theme song to the show Hawaii 5-0.




The last contestant was Kelly Parker with Drunk Monkey. She told the story of the pirates having pet monkeys on the ship. They learned to use their tails to steal the rum from the pirates and get drunk. You can see our three judges toasting that drink. Thanks Denise Baranowski, Terry Burr and Shelly Piechotte for being judges!




We have two type of winners, one for taste and one for presentation. The winner for presentation was Pauline and Ken with Blue Hawaii 5-0! The winner for taste was Kelly for Drunk Monkey! Each won $25.00.




We then talked, drank and socialized. Because Bill Ainsworth didn't charge us for the use of the pole barn we wanted to show our appreciation by giving he and his wife a $100.00 gift card to their favorite restaurant, Texas Roadhouse. We also brought our own soap, toilet paper, paper towel and trash bags so as not to use up theirs.




Soon people started to leave and so we cleaned up. A few die hards stayed to continue to party.




It's been 20 years and what a ride it's been. What a great group of friends! We have done alot along the way. Jimmy may be gone but not forgotten! We will carry on what he taught us "Party With A Purpose"! Thank you party committee for putting this on for us. Thank you to everyone who helped in whatever way you did. Let's see how far we can take this club! Phinz Up ~~~^~~~




Home