Spare Change Challenge

We have a winner for the Spare Change Challenge. This time it is Ben and Pauline Nofs with team Baby Shark. They collected a total of $420.29, great job! Thanks to Ben, Pauline and Jim Racz for their fundraising efforts that will go to Spero Pregnancy Center. Also thanks to everyone who donated all year long. Photo to come.




We now start again with two new Captains and a new charity. Captains this time are Ken Nofs with team "Captain Morgan" and Shelly Piechotte with team "Save the Ta-tas". The charity they will be collecting for is: Taking a Shot at Breast Cancer. Good luck Captians!




Painting for Auction

We have a winner for the Parrot painting. At $70.00 the winner wants to be anonymous. That person wants to donate the painting back for another raffle, maybe in a basket. Thank you to Kelly for the painting and to all who bid! You will see it again!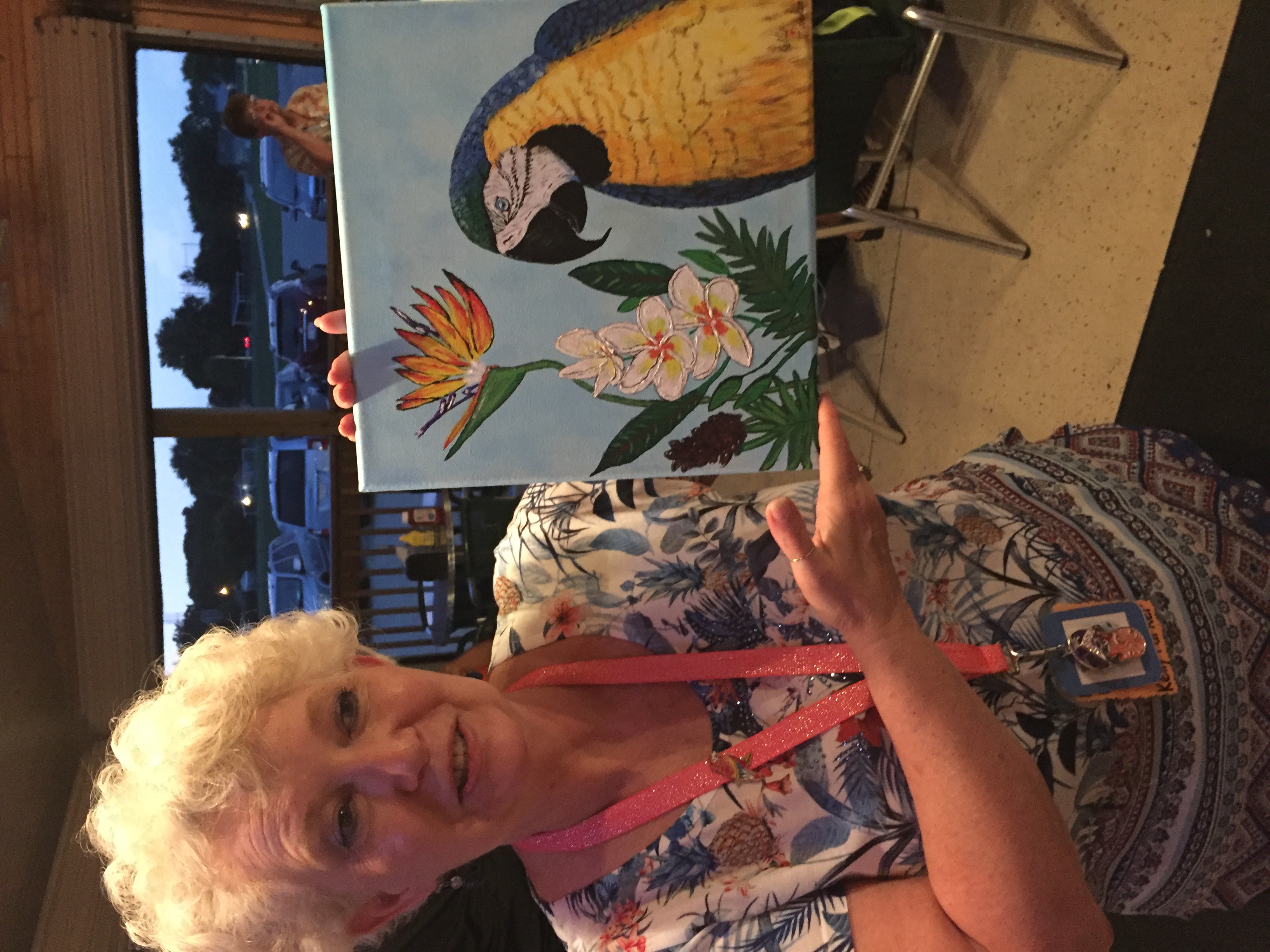 Taking a Shot at Breast Cancer

Every year a group, Taking a Shot at Breast Cancer puts together a calendar to raise money for breast cancer. A photo is taken for the cover from above with people dressed in pink. This year four Parrot Heads came out for the picture. They had tents for 50/50 raffles, t-shirt sales and other raffles to raise more money. A ladder firetruck came out for the photographer to be high enough for the picture. After the cover pic was taken another one was taken for the Survivors. Watch for the calendars when they come out! There are other fundraising events they are having.



Rotary International Parade

To kick off Boat Week, the Parrot Heads were in the Rotary International Parade. This years theme was Children Story Time so we went with "Treasure Island". We had pirates, chest of gold, the ship, a mermaid and even little "Jim Hawkins" just like the book. Thank you to Timmy Horan for playing Jim Hawkins.




When we got to the line up, we had to finish the float with items that would fly off in transit. Everyone dressed the part and looked wonderful. Soon we were off! The crowed loved us, lots of people were saying "Rrrrrr" as we went by. We even made it in the Times Herald this year! A special thanks to Jim Howard who chairs this for us every year. Thanks to everyone who helped put the float together, who showed up to march and to Tim Horan for lending us his truck to pull the float and Sue Horan for driving.

Putt'in 4 Paws

For years now we have gone to Putt'in 4 Paws to play golf and help raise money for the Sanilac Humane Society. This year was no different! We had 24 1/2 Parrot Heads show up (little Jamie was there too). We all brought a donated item and bought 50/50 tickets. Then off to play golf.




Anything to make the shot, Ken! ANYTHING TO MAKE THE SHOT!




After golfing we just had to relax. Then it was time for the donation of the money we raised. We donated $300.00! Way to go Parrot Heads! Candi won the 50/50, which was $50.00. There was also a mystery hole. If anyone got a hole in one on that hole could get a free T-shirt. The only problem was we didn't know the hole. Several people got hole's in one on different holes, but not on hole number 9. They compromised with us and picked the one that was closest to the 9 hole and that person was Paula McVety. Congrats!




Then we all went out to the sign for a group picture.




We thanked them for having us and they thanked us for being there. It is a mutual love so we will be back next year. So then off to Steis's in Lexington for dinner. We had 21 people go there.




Thank you Karen Racz for chairing this for us every year. Thanks to everyone who came out to golf, brought a donation and bought 50/50 tickets. The Humane Society does such good for animals that we need to help them.

Float Build

The Rotary International Parade is coming up soon so time to build our float. We gathered at the home of Jim and Donna Howard to decorate the float. This year's theme is Children's Story Time so we went with Treasure Island. Really what else could we do with a priate ship, we already did Hook so our choices are limited. We had to change out a cross bar, put up the lights, sails and the skeletons. Can't forget the chest of pirate booty! Look who just retired, Janie Howard!! Congratulations!! Love the sash!




Our littlest Parrot Head, Jamie helped in her own way. By being sooooo cute!




We will be putting the skirting on at the parade start so as not to tear any of it in transport. So we were done for now, time for a picture.




We all went to the backyard for hot dogs and drinks. Everyone brought a dish to pass.




Then we were off to the bon fire. Add a little music and it was a perfect night. Of course we made some Key Lime Shooters!




Thank you Jim for chairing the parade every year. Thanks for letting us into your house. Thanks to everyone who showed up to help, brought a dish and stayed to socialize. See you at the parade.

Memorial/Victoria Day Party

For years now Jim and Karen Racz have put on a party for the holidays of Memorial Day and Canada's Victoria Day. Our Canadian friends come over and we have a wonderful time. After the lockdown it was really great to see them all again. Jim usually puts a turkey in the deep fryer but have you seen the price of turkeys these day! So he did burgers and dogs. We all brought a dish to pass and our own drinks.




It was a great spread. We all sat aroung the camper talking, eating and laughing. Candi brought Tequila Rose Pudding Shots and Steve brought THE Dessert, what more could you want. As the sun started going down the bon fire was started and we moved our chairs over there.




After some time Pauline told us about up coming rain. If you remember some time ago at an outdoor party we were warned about upcoming rain and we didn't listen. That was a big mistake! So this time we started to put away our chairs and get things together. We didn't leave yet, just stood by the fire with our drinks. Only a few sprinkels at one time but later it got harder so then we packed it all up. We will never not listen to a rain warning again! Thank you Jim and Karen for hosting us. Thanks to all who came and brought something. See you again next year!




Home