Spare Change Challenge

We have a winner for the Spare Change Challenge. This time it is Janie Howard with Beach Babes. They collected a total of $349.29, way to go ladies. Thanks to both Janie and Lynda Caryl for their fundraising efforts that will go to Ennis Center for Children. Also thanks to everyone who donated all year long.




We now start again with two new captains and a new charity. Captain's Jim Racz with Team Bubba's Babies and Ben Nofs with Team Baby Shark (Do Do Do Do). Jim has reminded everyone that he is our wonderful President and we don't want to let him down. Ben wants to remind us that he has a very catchy toon with his team name! The chairty they will be collecting for is Child Abuse and Neglect Council.




Painting for Auction

Kelly Parker is a wonderful painter, did you know that? She painted a
beautiful parrot painting that we will be auctioning off at the next
meeting. Make sure you are there if you want to bid.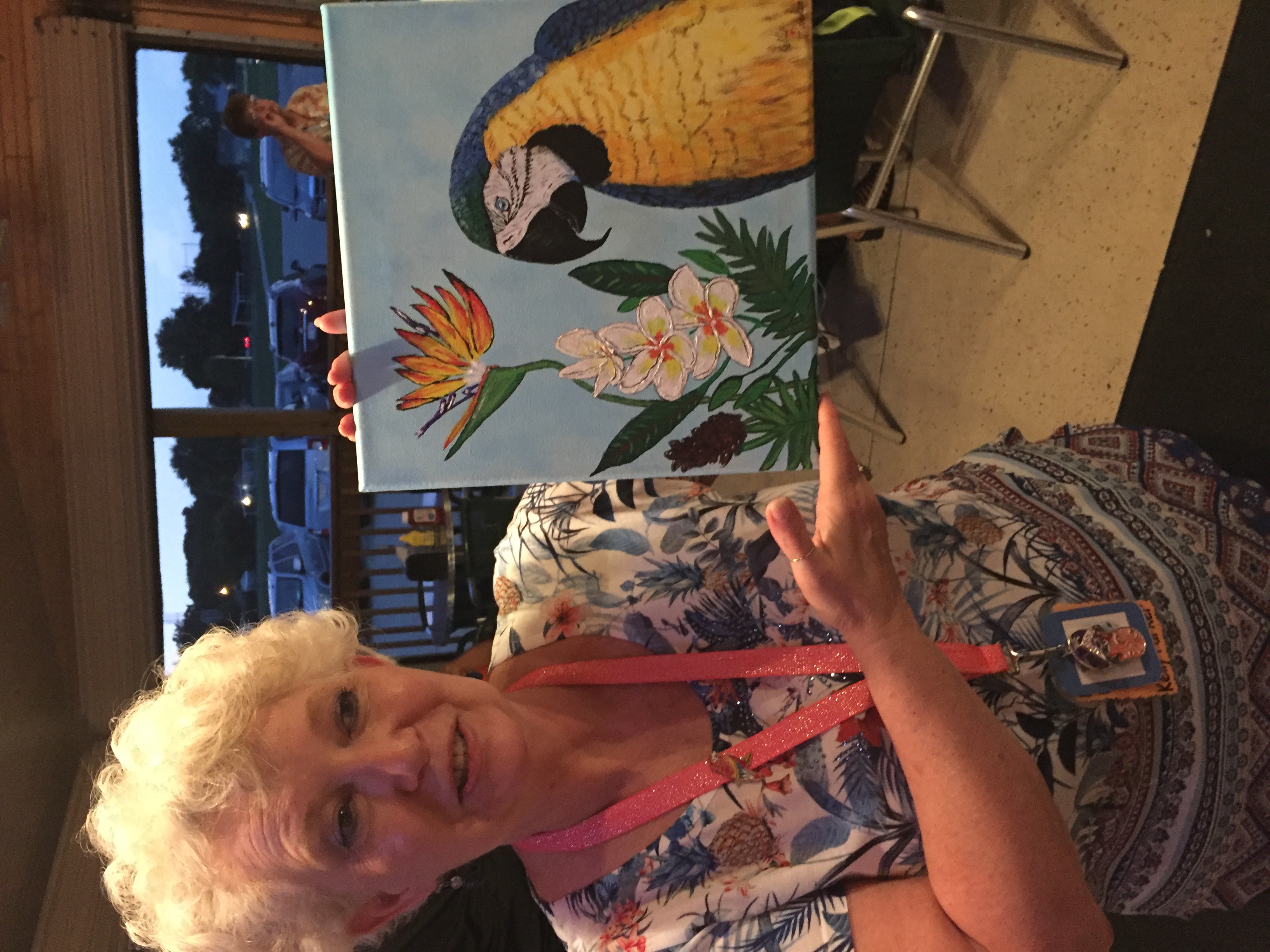 Club Anniversary Party

The Blue Water Parrot Head Club is 18 years old! That means we have a party! Tim and Sue Horan were kind enough to have it at their house. We were greeted right away as we pulled in. Even the welcome mat made us feel right at home.




Bill and Steve kept with the tradition of Pyro Pete and made another one this year.
He had a mask and was named Pyro Pete IV. Notice the sweat pouring off his face and the flip flops.




We also had another celebration going on, Tom Lozowski retired! Sue got him a cake and Jim Howard made him the big Jell-O shots. Jim also found the Jimmy Buffett song "Gentlemen of Leisure" and played it for him with a toast. Thanks Jim! Also the Phlucking Phlocker award, that was voted on at the last meeting was announced. Congrats Pauline Nofs! Notice the palm tree painting that Kelly Parker added to the award when she had it. Kelly painted that! What will Pauling add to the award for next year?




People arrived and started to eat. Tom and Candi made the famous gumbo (with a piece of french bread with which to wipe my bowl)(I bet you sang that line) and Steve made the famous dessert! Jell-O shots were every where and Bill and Steve brought two more Blue Chair Rum flavores for us to try. We sat around talking, laughing, drinking and dancing. We even played corn hole.




Team Drinks were every few minutes and when "Fins" was played we all did our fins, even Pyro Pete. Can't have a Parrot Head party without a fire, even if it is so hot we were all melting. Only Kelly Parker had a drink for the contest so we couldn't have a contest. But she made the drink, put it in shot glasses for us all to taste. It was called Key Lime Co-Colada and was very good, I say she won!




As it got dark it was time to burn Pyro Pete IV. Bill got the fire tongs and set him on the fire. He caught right away and slowly fell into the flames. We all cheered!




At some point Donna said that a rain storm was coming. Others checked their phones but said that it would miss us so we kept partying. Well it didn't rain; it poured so hard we were thinking we should build an ark! We will never dismiss Donna again!!! The girls were in the house taking pictures so the poor guys had to gather everything and get it into the tents that they had set up for shade from the sun. Thank God they had them! Well a little rain or a storm never stopped a Parrot Head! We all got into the tent, found our beers and started to play Left Right Center. That is just what a Parrot Head does.




It all turned out to be a great time. Happy 18th Anniversary Blue Water Parrot Head Club! Thank you to Tim and Sue Horan for hosting, we know how much work goes into having a party at your house. Thank you to everyone who brought a dish or drinks to share. Thank you to all the Parrot Heads who showed up. Thank you to all club members for your support! We can't have a club without you! Can't wait to see what the next years have to offer! Phinz Up!!

Christmas in July

The July Phriday Pheeding Phrenzy was held at the home of Ken and Pauline Nofs. They did a Christmas in July party. The yard was decked out in both Parrot Head and Christmas decorations. Ken even had Christmas music playing. Pop up tents were put up in case it rained, but it didn't until we were all cleaned up and the last ones were leaving at about 1:00am. Perfect if you ask me!




The guests dressed in the same manner, Parrot Head and Christmas. Even the dog, Cloe was dressed for the occasion. Steve brought the extra drinks, Blue Chair Rum in Key Lime and Pineapple.




Food was set up outside, please note the red sled that they used for ice to put the cold items in! Wasn't that a great idea? Pauline roasted a turkey, it is Christmas after all! She was inside busy cutting it up. We had turkey, green bean casserole, cowboy beans and cranberry sause. Once it was all out we got our food and ate and talked. We had lots of desserts even Christmas cookies, but don't worry Steve did bring the famous Eclair Cake dessert. About 20 some people showed up, it was a good crowd! The Nofs thought of everything to make the evening perfect. We had place for shade, for sun, a place for tabs and koozies if you needed one. Ken also got a Port-a-potty in case his well couldn't handle the flushing. That was the cleanest Port-a-potty I have ever seen and they even put a motion light inside so we could see after dark and solar lights to mark the path to the john. THANK YOU!




After eating it was to early or should I say to light for the outside movie so we played Corn Hole, that the Padgett's brought. Steve, when he wasn't playing was judging the other players with the help from Cloe, who was watching very intently! She was keeping an eye on Eddie, the cat who was chasing the bean bags. When the party is at the Lozowski's house, Candi has a sign by her pond to keep people from peeing in it. Too bad Pauline didn't think to put up a sign. See what will happen if you don't. What am I saying it still happens anyway!




Soon it got dark and Ken set up the screen for us to watch the best Christmas movie EVER, National Lampoon's Christmas Vacation! Candi brought the lime Jell-O shots with the cat treats glued to the tops just like Aunt Bethany brought to dinner in the movie. With 5 outside cats at the Nofs house, the treats didn't go to waste. Candi also printed the rant that Clark says after he finds out he got Jelly of the Month instead of a bonus. We all got it and tried to say it along with him. That was fun. While that was going on Bill was starting and tending to the bon fire. We also had color packets to turn the fire different colors. Beautiful!




It was a very fun night! Thank you to Ken and Pauline Nofs for hosting this for us. You did a wonderful job! Thanks to everyone who came out and brought a dish to pass. It was great fun with great friends.

Rotary International Day Parade

Our first parade since Nov. of 2019 was July 21, 2021! The float was refurbished from the long harsh winters outside and set up to be the 1991 movie "Hook". We had it all, Peter Pan, Captain Hook, pirates and a mermaid! OK so we were missing some lost boys but we can't get everything right. Although Tom Frances said he was our lost boy. We put the club banner on the front of Jim's jeep since we only had 8 people to march in the parade, and Jim had to drive the jeep. For the first time since in I don't know how long it wasn't sweltering hot on parade day! Thank you to the parade gods!




Ken and Pauline Nofs dressed as Pan and Hook. They did a wonderful job with the costumes and playing their parts during the parade. You should have seen the faces of the kids when they saw us. They yelled out Peter Pan! At first the adults cryed out Capatin Morgan but were quickly corrected by the kids that it was Hook! I do understand why the people would think our club would have Captain Morgan but still it is a family parade. Ken would ask the kids where was Pan and they said behind him, then Pauline would hide in the sails. When Ken saw a little girl dressed in a princess dress he would ask if she was Tinkerbell. All but one said "yes".




Everyone was dressed to the nines. Our club Prez, Jim Racz showed up to show support. Soon we were off. I can't believe how many people were out there to watch. I guess everyone was really ready to get out and see people like we were.




We had a really nice parade this year. After, some went to Palm's Krystal Bar for dinner. We want to thank Jim and Donna Howard for all the work they did to put the float back together. Jim for chairing this for us every year. Thanks to everyone who worked on the float and marched in the parade. The next parade will be the Christmas parade on Nov. 26. Hope to see you then!




Home