Spare Change Challenge

We have a winner for the Spare Change Challenge. This time it is Ben and Pauline Nofs with team Baby Shark. They collected a total of $420.29, great job! Thanks to Ben, Pauline and Jim Racz for their fundraising efforts that will go to Spero Pregnancy Center. Also thanks to everyone who donated all year long. Photo to come.




We now start again with two new Captains and a new charity. Captains this time are Ken Nofs with team "Captain Morgan" and Shelly Piechotte with team "Save the Ta-tas". The charity they will be collecting for is: Taking a Shot at Breast Cancer. Good luck Captians!




Painting for Auction

We have a winner for the Parrot painting. At $70.00 the winner wants to be anonymous. That person wants to donate the painting back for another raffle, maybe in a basket. Thank you to Kelly for the painting and to all who bid! You will see it again!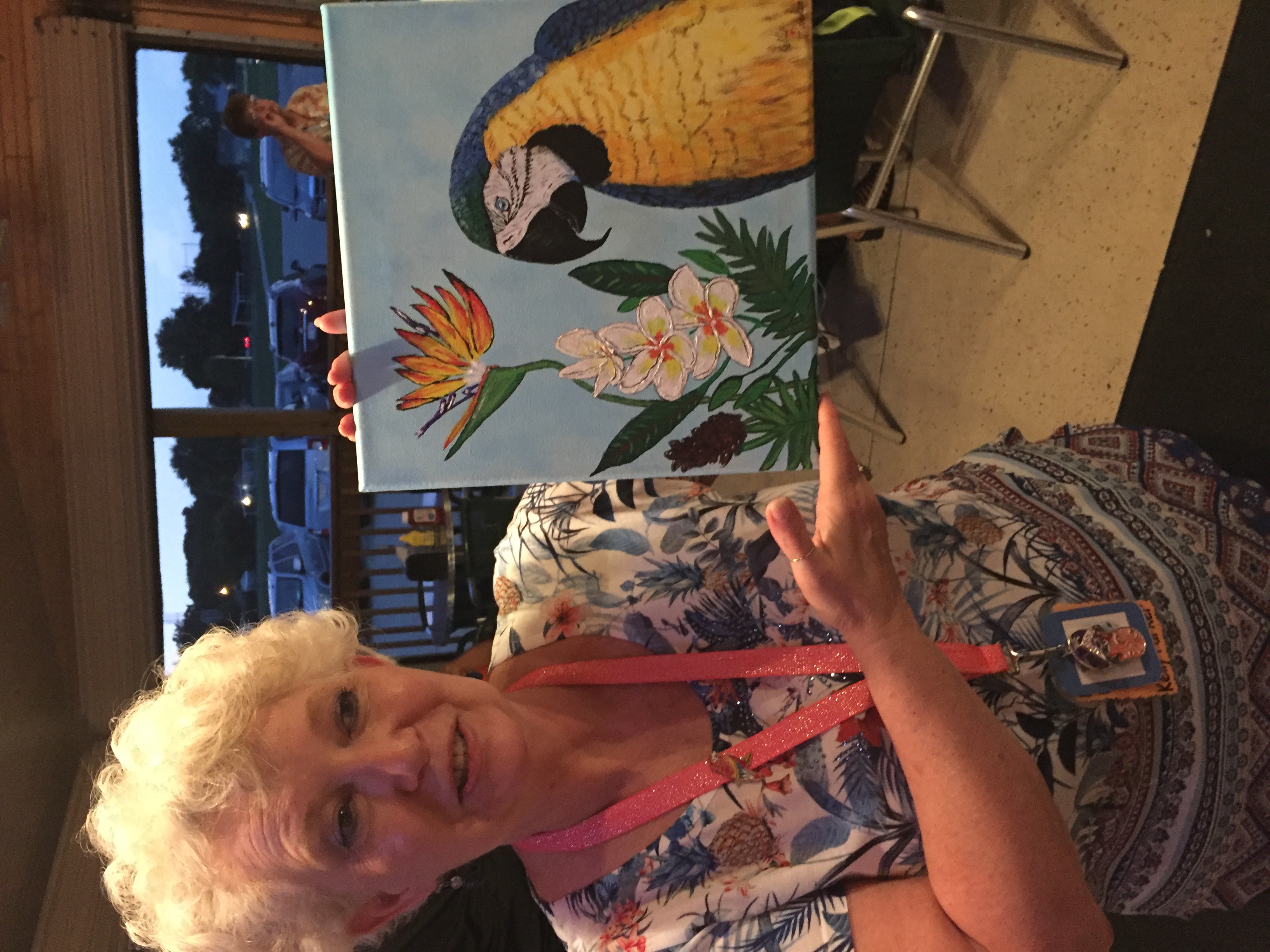 Extras

Here are a few extra things we want to show you. First we donated $250.00 to Nikki Steroski. She has cancer and was having a fundraiser. Jim and Donna Howard dropped off the check to her. Nikki is in pink.




Next some Parrot Heads helped at the Tires and Treads event. Here are some ticket sales people. Also Marc and Sue Arnett were there most of the day and helped clean up. Mike Olar got a trophy for his car. Great job Mike! The 50/50 split was $375.00. Great job Tires and Treads!!!




Parrot Head Club 19th Anniversary Party

Can you believe that we are 19 years old?? I can't! It only seems like yesterday when we were meeting at the old HAC in downtown Port Huron, when we only had 10 members and we put short grass skirting on the tables. Look at us now! We gathered at Tim and Sue Horan's house for the party. The food was set up in the kitchen. We had gumbo and of course we had Steve's famous dessert. Tim had a bar out on the porch, in case someone didn't bring something to drink. Like that would ever happen!! We sat around on the new patio, very nice Timmy! Oh look the girls had the same anklet.




We played corn hole. Tim already had a fire going. Pyro Pete V made an appearance again. For those who don't know who Pyro Pete is; he is a wooden doll that we throw into the fire. Five years ago at the Yard Sale there was a wooden spool doll that Bill Padgett (our fireman) saw and wanted to burn. Candi Lozowski bought it and brought it to the anniversary party for him to burn. We named him Pyro Pete. Ever since then Bill has gotten a wooden doll, he and Steve decorated it and we burn it. We are on Pyro Pete 5.




Then it was time for the Boat Drink contest. We had three contestents. Our judges were Deb Olar, Sue Horan and Rick Way. First up is Pauline Nofs with Ocean Water; made with 2 oz. UV Blue vodka, 2 oz. coconut rum, 1/2 oz. Midori and 7-Up (or pineapple/coconut Bubly). Both her and Ken dressed as sharks.




Next up is Kelly Parker with Caribbean Mojo. (recipe in the photo)




Our last contestent is Jim Racz with Loaded Shark; made with Land Shark beer and Margaritaville Tequila and a lemon wedge.




We all got to taste the drinks while the judges conferred.




Then the winners were announced. For Honorable Mention- Jim Racz. For best Presentation- Kelly Parker. For best Tasting drink- Pauline Nofs.




Some of us had a drink then the tastes of the contest drinks. You could say we were Three Fisted Drinkers!




We can't have a gathering without a Team Drink! Deb, did you spill?




We then went back to the fire. Jim then announced who won the Phlucking Phlocker Award. Last year's winner, Pauline added to the award bowling ball and pins. This year's winner is Deb Olar! Congrats Deb! What will she add for next year. Also another Team Drink.




Now it is time to burn Pyro Pete! Bill carefully places him onto the perfect spot on the fire. And up he goes in flames!




As the night went on we had music and danced. We watched the fire and had lots of fun. Color was added to the fire to make it look so nice. At one point Kelly got tired and laied down for a rest.




It was a great night. Thank you to Tim and Sue Horan for sharing their home with us. Thank you to everyone who came, brought a dish to pass and enjoyed the anniversary! Happy 19th Anniversary BWPHC! And many more!

Parrot Head Yard Sale

On August 12-14th was the Yard Sale Trail, so we set up a spot with donated stuff to sell for our Scholarship fund. People dropped off items with Jim Racz or had him pick up the large stuff. Tables were set out at his in-law's house, which is right on the trail. Signage was made to advertise and we started to sell.




It was cool in the morning but later got warmer. Mostly overcast for the day. It started out slow but picked up later in the day. Things were being sold left and right (that would make a good line in a song- stuff to the left, stuff to the right).




We don't know what the finial total we raised, Jim will probably announce it at the next meeting. Thank you Jim for chairing this for us. Thank you to everyone who donated items and who came out to work the sale.

Taking a Shot at Breast Cancer

Every year a group, Taking a Shot at Breast Cancer puts together a calendar to raise money for breast cancer. A photo is taken for the cover from above with people dressed in pink. This year four Parrot Heads came out for the picture. They had tents for 50/50 raffles, t-shirt sales and other raffles to raise more money. A ladder firetruck came out for the photographer to be high enough for the picture. After the cover pic was taken another one was taken for the Survivors. Watch for the calendars when they come out! There are other fundraising events they are having.



Home